Suppose you have a plan to buy or just recently bought an inflatable air blow-up for decorating your house and yard. Now you want to know the way to set it up and leave it there for a couple of days. No worries, here I will show you the ropes about how to install an inflatable decoration in your yard.
Step 1: Check Your Package
Check what's included items in your purchase. Generally, you will have the inflatable product you wanna blow up, some ground stakes and ropes, a fan blower. That's all in all enough.
Step 2: Fixate the Fan
An inflatable yard decoration requires a constant state of air flow, so it can keep its shape. That means it basically needs a fan to blow it up. Hence, our next job is to anchor the fan blower onto the ground, keep it stable.
Step 3: Blow It Up
Now it is time for magic to happen. Let's connect the air fan to your power. After plug in, we are expecting the blow up decoration being gradually bloated and standing up. One thing to make sure is to close the zipper on the inflatable, otherwise it won't work.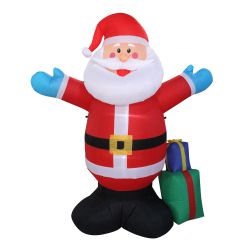 Step 4: Secure the Inflatable
Last but not the least, you need to secure the inflatable too. Blow up inflatable holiday decoration comes with some ring hook bands. These hooks are for ground stakes to peg through so as to anchor the inflatable.
That's it, that's all you need to do to blow up an inflatable decoration in your house and yard. Of course, if you want an blow-up inside your house, you can skip the staking part.